After more than six months in East Asia (and one week in Western Australia), it's time to rewind. I am writing these lines at the airport in Kuala Lumpur and I am more than happy for the past 200 days, where I was able to visit many places I know (and love) again, and also going around and exploring new fascinating places. And from this day on, I will share my experiences with you again - hopefully,it lasts some longer than the first attempt on the One Man Wolf Pack Blog ;-)
So this article gives you an overview about the upcoming three months, where I will leave East Asia for Central Asia and South and North America via Turkey and Spain. The upcoming flight will bring me to Tehran, where I will have two days to explore the capital of Iran. After this, I will head to the Azerbaijani capital Baku, followed by Tbilisi, Georgia's capital. From there, I will explore Georgia and Armenia, where I will definitely head also for the last capital out of these four: Yerevan.
Currently, the weather there is around minus 15 degrees Celsius, which means, compared to today in Kuala Lumpur, I will loose around 45 degrees, which will definitely hurt, as I am not prepared for this kind of weather at all, haha. After that, I will visit again one of my favorite places - Istanbul! Once the days in the Caucasus are over, I'll fly to my number one place at all, Barcelona, before having a last stop over in Madrid and hitting South America by landing in Sao Paulo/Brazil finally.
After one month in Brazil, it's time for the Carribean. The route is: Brazil » Suriname » French Guiana » Guiana » Barbados » St. Vincent » St. Lucia » Martinique » Guadeloupe » Dominica » Antigua » St. Kitts and Nevis » British Virgin Islands » American Virgin Islands » Puerto Rico » Canada » USA, so I cannot say anything else than: this is gonna be hell of a time!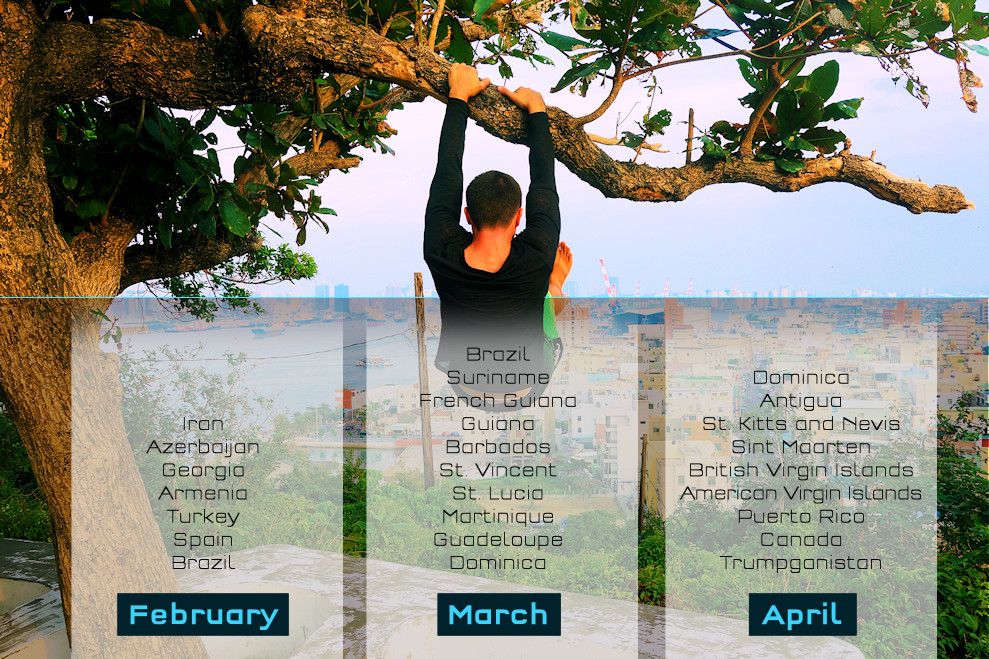 I will check in for my flight to Tehran now and I hope that I'll be able to give you an update soon, but I am pretty sure that internet is not gonna be available as it is in other parts of the world. So, stay tuned and welcome back on the One Man Wolf Pack Blog!
Klaus H. Kober
[1] · February 13, 2018 - 09:35
Hi MIro,
tolle Site. Hoffe wir sehen uns mal wieder in good old Germany :-). Freue mich, wenn Du dich mal meldest.
Viele Grüße und alles Gute
Klaus